Image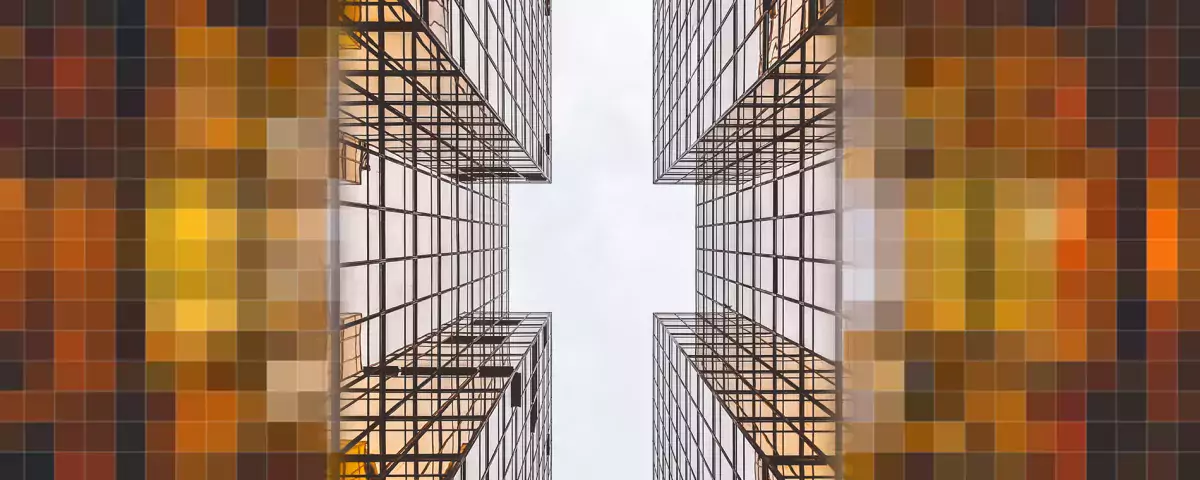 30.06.2020 | Blog
Fast and efficient search in Confluence
With Enterprise Search the intranet becomes a knowledge portal: Users of the content collaboration platform Confluence can easily upgrade their corporate wiki or intranet with the professional search functionality of IntraFind.
Managing and documenting knowledge in companies and public authorities has become a real challenge. But there are suitable software solutions for it. If these are still equipped with an intelligent search solution, the users benefit considerably. If employees can find the right information they need for their work and decisions quickly and easily, this increases efficiency in the company.

Confluence as the basic platform

Originally designed as an enterprise Wiki system with a focus on knowledge exchange and documentation, "Confluence" by the Australian manufacturer Atlassian has been continuously developed and today stands for a "central source of information with a focus on teamwork". The solution is very successful and widely used in the market. It has long been used by many companies and corporations as a central intranet platform, where it is heavily populated with content, sites and files.

Searching and finding as the challenge

Like many other data applications, Confluence struggles with a significant problem. The more employees work with it, the greater the daily challenge for users to find the right information in this massive data growth.

Users want an easy to use search with useful and intuitive control options. They want to receive hits where they can immediately see whether the desired information is behind them. Not only do they want to find the information quickly, but they also want to be sure that they are getting the most current information so that they can make the right decisions and carry out the next activities based on it.

Integration of an intelligent search as the solution
To massively improve the quality of hits within the search and thus increase user acceptance, the integration of a real enterprise search software is also possible for Confluence. "iFinder Confluence Search" by IntraFind Software AG is available on the Atlassian Marketplace. This app integrates easily into Confluence - without changing the data or the system. Confluence users who are registered in the "iFinder Search" group automatically get a new search input field.

The intuitive user interface offers facets and filters specifically designed for Confluence and supports the person searching with essential functions. These include a sophisticated autocomplete with correction and "Did You Mean" suggestions and the extension of search queries with synonyms. The Instant Search functionality delivers results even while typing. All content that is now displayed is based on the respective user rights.
Image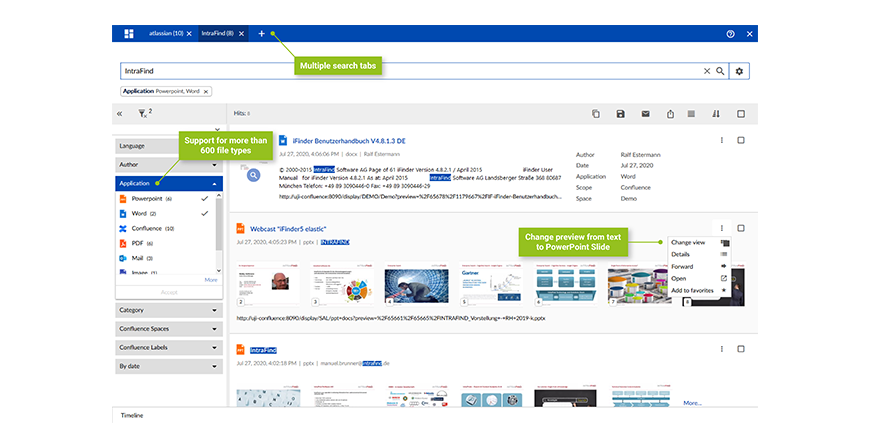 Intelligent speech understanding as the key of the technology

To ensure that the search reliably delivers hits that are relevant to the user, a comprehensive understanding of language is the core of the AI-based enterprise search technology. Based on an intelligent identification of language and word boundaries even for complex terms, a very precise morphological basic form normalization makes the search qualitatively measurably better. This means that the search for "author" also delivers hits with the word "authoring", but not with "authority". A search for "book" will also return hits for declined forms such as "books".

Searching in other languages like German, Spanish, Hungarian, Finnish, Italian or even Korean has its own requirements, which are covered by iFinder through appropriate language analysis packages.

Support for numerous file formats and data sources included

iFinder Confluence Search supports over 600 different file formats and for scanned documents OCR recognition can be used as an extension.

In addition, further data sources and applications such as file shares, mail, document management and ERP systems or Office 365 can be added easily. For this purpose IntraFind offers more than 80 different connectors to target systems. The user interface can be extended with facets and filters which are specifically adapted to these additional sources.

Bottom line:
User acceptance of Confluence increases significantly with an easy to use search that delivers highly relevant hits. Confluence can now be extended to a digital workplace and central knowledge platform. If users find relevant and up-to-date information that they need for their tasks and decisions efficiently and quickly, this increases the efficiency in the company considerably.
Robby Holtmann
Senior Account Manager
Robby Holtmann has been working in IT sales for almost 25 years and has held various positions with different manufacturers and IT service providers.
As Senior Account Manager at Intrafind Software AG he has specialized in enterprise search and is responsible for search integration in Confluence.
Image